Lou, eh? – A Delayed Reaction to the Leafs Sudden Hiring of Lou Lamoriello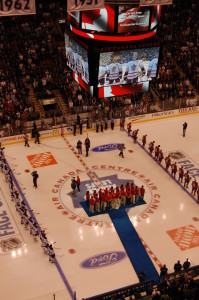 In my last article, I praised the Toronto Maple Leafs for their new forward-looking management team and cited their new approach as the main reason that I finally saw light at the end of the tunnel and was optimistic about the future.
I wrote about how they were finally getting away from the "old-school" approach and seemed to be moving into a new era of using every modern analytical tool available to their advantage,  and potentially even pushing the boundaries past what any other team in the NHL is currently doing with an all-star team of forward thinkers.
Hell, it looked like they weren't even going to bother hiring a traditional general manager.
Four days after I wrote that article, they hired a 72-year old man known as "the Godfather", with a reputation for being as old-school as it gets, as their General Manager. Lou Lamoriello, eh? This really doesn't seem to make much sense.
Lou was the longest-serving general manager of any team, EVER, as he led the New Jersey Devils for 28 years. He had a very successful run with three Stanley Cups victories in five appearances. However, he was also know for things like not letting his players grow facial hair and not letting anyone on the team wear #13 – quirks that don't exactly scream "forward-thinking".
Most of his success in New Jersey came in the pre-cap era in the late 90's, early 2000's, when the Devils were known for their suffocating "trap" style of defense. And Lou has had a sketchy-at-best, abominable-at-worst recent draft history.
Either way, I'm going to continue to chase the dragon and pour my financial, emotional, and overall well-being down the drain to support them. I'll watch every game on TV, and I'll be doing my annual Ottawa Limo banger when the Leafs visit the Sens on Feb 6.
So why would the Leafs, and specifically President Brendan Shanahan, want to bring Lou in to be the head honcho of this modern-thinking, rebuilding team?
Well, for one, Brendan does have personal ties to him. Lou's been around so long that he drafted Shanahan to the Devils when he was 18 in 1987. But, of course, that's hardly a reason to name him the General Manager of the most popular team in hockey.
The obvious answer seems to simply be "experience". The main trait that the likes of Kyle Dubas, Mark Hunter, and even Mr. Shanahan-himself lack is experience. Or, at least, NHL experience. Perhaps the thought was that even if the team had their strategy thought out and settled, it would be best to bring in a general or "Godfather" to implement it.
Ultimately this is what I'm hoping – that Lou Lamoriello is coming into the fold as more of a senior consultant than a traditional general manager. He's there to handle the "old-boys club" of GM's around the league who may have had a problem dealing directly with Dubas.
This scenario makes a lot more sense to me than Shanahan completely switching-up on the modern management team he's been moulding over the last year and handing the reigns over to old-man Lou.
So yeah, that's what I'm going to roll with – for my own sake. Because, damn it, I saw the light at the end of the tunnel and I'm not going back.